Other Helpful Links
The Basics for Septic System Owners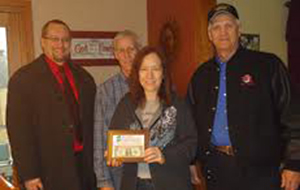 Norwood Young America
Chamber of Commerce
Our Suppliers
Wm Mueller & Sons, Inc
http://www.wmmueller.com/
Wm Mueller & Sons provides our black dirt, binder rock, sand, gravel and much more.

Belle Plaine Block & Tile
http://www.belleplaineblockandtile.com/
Belle Plaine Bock & Tile provides our septic tanks, Gould septic pumps, pvc pipe, and many other parts.
Common Problems or Questions Regarding Septic Systems
Septic System Alarm is Going Off

Check the circuit breaker for the pump - the alarm and pump should be on separate breakers.
If the breaker for the pump is not engaged, re-set the breaker.
If the breaker repeatedly disengages, the pump may be jammed, have a worn base plate, or be in failure.
Call Jim's Excavating@ (952)-442-9282 ASAP to assess your septic system problem.